Frustrated that they aren't understood or can't tell you what they want
Diagnosed with a development disorder
Not saying some sounds correctly
Not making friends easily or have trouble playing with others
Having trouble with reading like other children
Not using words to communicate or not speaking enough compared to their peers
Strides Speech Therapy is committed to helping children meet their potential by providing high quality, individualized, comprehensive and evidenced based evaluations and treatment.
Please read our success stories and contact us today to see how we can be of service to your child and your family.
We provide online (teletherapy) services to clients in the state of Maryland. 
At Strides Speech Therapy, we take a family-centered, play based approach utilizing each child's strengths and interests to custom fit a therapy program that is just right for them.
Benefits of Strides Speech Therapy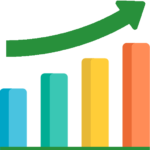 Faster Progress
Our services include parent training and education so that families can carry over communication strategies and build in parent directed, skill focused activities throughout the day.
Affordable
Strides Speech Therapy is in network with most commercial and state plans. We understand how expensive paying for services out of pocket can be. We also offer a prompt pay discount for those paying out of pocket for services.
Convenient
Our teletherapy services can be accessed from your home. No need to spend 15+minutes getting out of the door or driving to therapy and back.
Simple for you
You will find that utilizing our services are easy from the beginning! From the start with online paperwork to scheduling to services, we make the process as seamless as possible for our families.
We accept the following insurance companies and also private pay.
United Healthcare Community Plan (Managed Care Organization)
Tricare (certified provider only)
Priority Partners (Managed Care Organization)
Johns Hopkins Employer Health Programs (EHP)
Johns Hopkins US Family Health Plan
FOR ALL OTHER INSURANCES, WE CAN PROVIDE YOU WITH DOCUMENTATION TO SUBMIT TO YOUR INSURANCE COMPANY FOR REIMBURSEMENT.